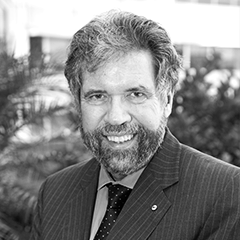 Professor Richard Kefford AM
Professor Richard Kefford AM is Professor of Cancer Medicine, Head, Department of Clinical Medicine and Head, Cancer Clinical Program at Macquarie University. He is also an Honorary Professor in Medicine at the University of Sydney and Faculty Member at Melanoma Institute Australia.
Richard graduated in medicine from the University of Sydney then trained in medical oncology at Royal Prince Alfred Hospital, and as a graduate student at the Ludwig Institute for Cancer Research, Sydney, where he gained a PhD in purine biochemistry. His postdoctoral period was spent with Nobel Laureate, Dr Cesar Milstein at the Laboratory of Molecular Biology, MRC Centre, Cambridge, UK on a Howard Florey Fellowship of the Royal Society of London.
Richard founded the Department of Medical Oncology at Westmead Hospital in 1986 and was Founding Director of the Westmead Institute for Cancer Research at Westmead Millennium Institute in 1998. He was Professor of Medicine and Chair of the Division of Medicine at Westmead Hospital from 1998-2013. He continues clinical practice in the medical treatment of melanoma and breast cancer at Macquarie University Hospital and Westmead Hospital.
Richard has conducted research into molecular genetics of melanoma continuously since 1985. His research group played a major role in the mapping of the melanoma susceptibility gene p16 and in characterising hereditary mutations in this gene, which predispose individuals to a very high risk of melanoma. He has been Principal Investigator on more than 60 clinical trials in cancer treatment including Phase 1 trials of drugs targeting the MAP kinase pathway and immune check-point inhibitors like anti-PD1.
Richard is a founding member of the International Melanoma Genetics Consortium, GenoMEL. He has been a member of the Research Committee of the National Health and Medical Research Council and Chaired its Project Grants Committee. He is a member of the Medical Oncology Group (Australia) and on the executive of its Ethics Committee. He is a Member of the European Society for Medical Oncology and the Society for Melanoma Research.
Richard was awarded Member of the Order of Australia (AM) for service to oncology and medical education. He is a Fellow of the Australian Academy of Health and Medical Sciences (FAAHMS) and was awarded the Premier's Award for Outstanding Cancer Researcher of the Year in 2017. He is the author of over 400 papers in the peer-reviewed medical literature.