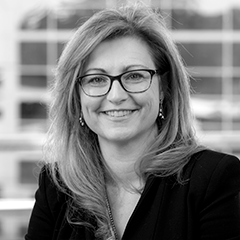 Professor Johanna Westbrook
Professor Johanna Westbrook is Director of the Centre for Health Systems and Safety Research, Australian Institute of Health Innovation at Macquarie University. She is internationally recognised for her research evaluating the effects of information and communication technology (ICT) in healthcare.  She has over 390 publications and been awarded more than $40 million in research grants. Johanna has led important research in the development and application of approaches to evaluate ICT, including new tools and methods which have been adopted internationally. She has contributed to theoretical models regarding the design of complex multi-method ICT evaluations. Her research has led to significant advances in our understanding of how clinical information systems deliver (or fail to deliver) expected benefits and supported translation of this evidence into policy, practice, and IT system changes.
Johanna is currently leading research investigating the role and impact of ICT in the community and aged care sector. Johanna was elected as a Fellow of the American College of Medical Informatics (ACMI) in 2005 and is one of only three Australians to receive this honour.  In 2014 Johanna was named Australian ICT professional of the year by the Australian Information Industry Association for her research contributions. In 2015 she was appointed Associate Editor of the Journal of the American Medical Informatics Association (JAMIA). In 2016 Johanna was appointed to the Board of the Australian Digital Health Agency.